Braised Ox Cheek, Soft Polenta & Cavolo Nero
This ox cheek has been braised for 6 hours, it will melt in your mouth. Try it with our Syrah Elephant Hill 2017.
For the Braise Ox Cheek (4 servings)
2 ox cheeks – trimmed of any fat and sliver skin
500ml red wine
200ml chicken or beef stock
100ml tomato passata
2 carrots
2 shallots
1/2 head of celery
4 cloves garlic
4 bay leaves
2 tbs chopped thyme
Chopped parsley
Method
1) Cut each cheek into 4 pieces and marinate overnight in the red wine, two crushed cloves of garlic, 2 bay leaves, 1 tbs chopped thyme. The next day drain, pat dry and reserve the marinade.
2) In a casserole gently sweat the carrots, chopped shallots, celery and remaining oil.
3) Season the cheeks and brown in a frying pan add to the casserole. Pour over the marinade, the stock, and the passatta, simmer for a minute and then put in a 120c oven for about 3 hours – until the cheeks are yielding but still hold their shape. Strain the braising juices into a pan, remove the vegetables.
4) Reduce until into acquires a glossy sheen and has a good meaty flavour, check seasoning and add the meat. At this point you can also add some fresh vegetables – some baby carrots, button onions, mushrooms etc.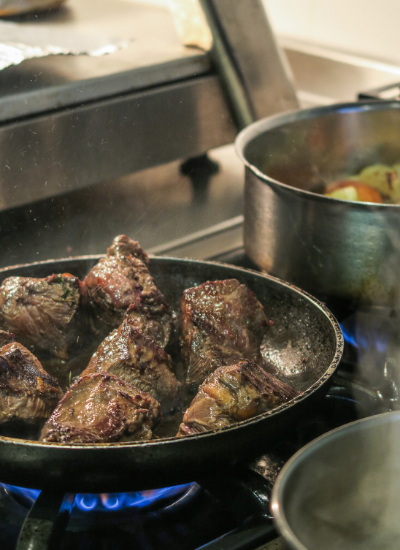 ---
For the Polenta
150ml milk
1/2 tsp salt
150g coarse cornmeal
50g butter
25g grated parmesan
Method
1) Put the milk in a large, heavy-based pan along with 600ml water and the salt, and bring to the boil. Meanwhile, measure out the cornmeal and put it near the hob.
2) When the pan comes to the boil, add the cornmeal, letting it run in thin streams through your fingers, whisking continuously. Stir for a minute or two until it thickens.
3) Turn the heat right down and stir well, roughly every 4-5 minutes to prevent it sticking, for about 20-25 minutes, until the polenta begins to come away from the sides of the pan. Stir in the butter and cheese, if using, then put on a serving dish.
---
For the Cavolo Nero
8 leaves Cavolo Nero
Butter
Method
1) Tear the leaves from the stalks and chop. Melt the butter, add a little water and the leaves, cook for 5 minutes, season with salt, pepper and lemon juice.
2) To assemble – put a spoonful of polenta on each plate, then a spoonful of cavalo, followed by two ox cheeks and a ladleful of cooking liquid. Garnish with chopped parsley.
---
Recipe created by the Gatherers