'Donde la tierra se acaba….(where the land ends)…' said the helicopter pilot (and somewhat worryingly I thought) as I held my breath, gripped my seat and we swooped and looped over a tiny experimental vineyard perched perilously above the Pacific on its rocky promontory.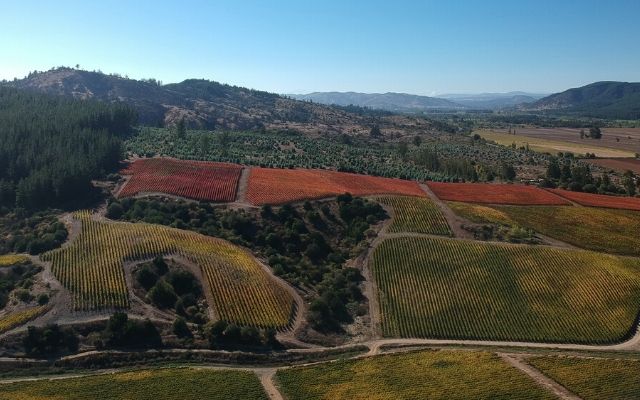 So that's what the word 'Chile' means in the old Mapuche language.' he explained. 'Or some say it is the cry of seagulls 'chille chille', or perhaps the Quechua word for 'snow'.' Indeed Chile is all these things and more.
A land of contrasts and extremes, Chile is an extraordinary country that harbours 200 thousand hectares of vines. In the north the vast Atacama Desert proves a barrier to predators. Likewise, the mighty Andes (80% of Chile's landmass!), rising to the east. To the south and west lie the waters of the Pacific. It is thanks to these protective natural boundaries that Chile was spared the ravages of Phylloxera, the louse that devastated world's vineyards in the late 19th century.
So Chile is in many ways an enclave, its landscape contrasting ancient rolling hills and steep-sided valleys glittering with minerals, dense forests and deep lakes, snow-topped mountains and meandering rivers. There are vines everywhere, some planted long ago in the 1500s, the legacy of the Spanish conquistadors, others the result of widespread European migration in the 19th and 20th centuries. This is a land with a rich history, whose natural attributes, politics and culture have spawned a fascinating industry.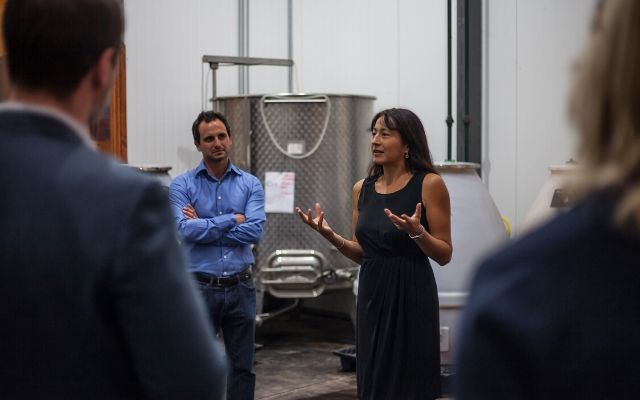 The Chilean wine industry is significant in global terms. In 2018, it stood as the 6th largest wine producing country in the world (12.9mhl. Source: OIV), and has become well-known in export markets, particularly for its well-priced easydrinking wines, which outperform many other countries in terms of value for money. The inevitable flipside to this success is that Chile has found itself pigeonholed as a producer of the cheap and cheerful: uncomplicated, juicy wines tasting of their grape variety but not much more. Does what it says on the tin.
However, Chile has much more to offer, as I found out last autumn when I made my latest buying trip to South America. After speaking to trade friends and tastings of Chilean wines in the UK, I realised I must delve deeper into Chile. I am so glad I did.
Buying trips seem to warp time. In a few intense days criss-crossing Chile, I had the opportunity to meet with dozens of producers, experience extraordinary landscapes, and taste hundreds of wines, many of which were new to me. The people I met, the vineyards I walked in or flew above, the wines I tried, were eye-opening in so many different and colourful ways.
After a number of tastings and discussions with the growers and my colleagues at C&B, I am delighted that we have signed an entire handful of producers, five new faces whose wines can take us – and our customers – on a new and exciting journey through Chile. All offer something different from somewhere different. All with their own unique story to tell.
Some of these growers produce just a few hundred cases a year, others are a little larger. But the common thread to all of their wines, is that they have a sense of place and of the people who made them; to use that very French concept, they are wines of 'terroir'.
These include classic red varietals from Idahue estate in the new DO Licanten (only the 4th appellation in Chile to be inaugurated just last year!), a jaw-dropping feat of engineering by La Ronciere winery; revived heritage grapes Pais and Moscatel from the rolling landscape of the beautiful Itata valley; an orange skin-contact Torontel from the remote southern Maule, and an old bush vine, dry-grown Garnacha made in amphorae. We have a biodynamic Cab Sauv from 80 year-old vines grown at altitude high above Colchagua, and the very essence of Carmenere from a French-Chilean winemaking couple with their tiny venture in the Maipo.
We hope they will inspire you to learn more about Chile and the many faces of its wine world.
---
Rebecca Palmer – Associate Director, Buyer at Corney & Barrow
Shop now at: corneyandbarrow.com/chile.html