There's a certain stigma surrounding wine in a cocktail. Maybe people have just not tasted a good one..? Perhaps you don't want to use your favourite wine and that's fair. And we don't recommend mixing with a pricey Bordeaux or the like…
Seriously though, wine cocktails can be great.
Here we celebrate the cocktail with a little help from our friends at Devonshire Terrace who have been showing us how to make their delicious wine cocktail recipes using some of our most popular wines. Skip to recipes >
But first, a brief history of the cocktail:
The origin of the cocktail is shrouded in mystery and is hotly contested. Many believe the cocktail was an American creation, the first definition of which appeared in a New York Paper in 1806. Editor Harry Croswell defined the drink thus:
"Cock- tail is a stimulating liquor, composed of spirits of any kind, sugar, water and bitters[…]"
Later, in 1862 "Professor" Jerry Thomas the pioneering American bartender published 'How to Mix Drinks; or, The Bon Vivant's Companion'.
However, the true origins of the cocktail might be closer to home than we think – mixology with spirits was practically a British invention…
Around the time Mr Corney opened his first shop in the City of London, the streets were awash with gin (in some cases literally), as illustrated in Hogarth's 'Gin Lane'. British barmen were also offering up the first iterations of a cocktail.
David Wondrich, author of the appropriately named 'Imbibe!', refers to a man called James Ashley, as "the world's first celebrity mixologist". James Ashley ran a famous punch house in London from 1731 to 1776, serving his clients drinks mixed with spirits.
The cocktail as we know it today, mixed with a variety of spirits, wine, bitters and other non-alcoholic concoctions, was developed in the USA – a much improved departure from its rougher European roots and something we are really truly grateful for.
To come full-circle, and because we are a wine merchant… below are some wine cocktails kindly given to us by Devonshire Terrace, who are appropriately situated in the City of London, back where it all started. There is even one with gin…
Cocktail Recipes to drool over …
Tango Nuevo
This is a delicious floral cocktail, conjured up by Devonshire Terrace's very own mixologist Kevin using Ruca Malen Petit Verdot, a powerful Argentinian wine exclusive to Corney & Barrow. Don't let the violet garnish deceive you in to thinking that this cocktail is gentle or mild, it packs a punch! (Excuse the pun.)
Ingredients
37ml Bombay Sapphire gin
12.5ml Ruca Malen Petit Verdot
12.5ml Chambord
12.5ml vanilla syrup
12.5ml violet syrup
5ml rosewater (dash)
Violet flower to garnish
Method
Place all the ingredients into a cocktail shaker with a little ice and shake, strain over a coupe/martini glass and garnish with a violet flower – beautiful!
Passion for Bourbon
This represents what a summer cocktail should be: tropical, fruity, and thirst quenching. And what is summer without a top notch Burgundy? If you don't finish the wine with the cocktail, that's just fine, chill it and drink it au naturel.
Ingredients
37ml Jack Daniel's Gentleman Jack whiskey
20ml passion fruit purée
20ml lemon juice
20ml maple syrup
12.5ml Rully Blanc, Olivier Leflaive
Soda (to top up)
Passion fruit wheel garnish
Method
Nice and simple: place all ingredients – apart from the soda – in a cocktail shaker. Shake. Pour over crushed ice and top up with the soda. Garnish with a slice of passion fruit.
Classic Champagne Cocktail
Simple and delicious. There is no need for you to go out and buy the usual cocktail paraphernalia if you don't have it, all you need is an elegant champagne flute.
Ingredients
25ml Hennessy VS cognac
1 brown sugar cube
100ml (to taste) Champagne Delamotte
2–3 dashes Angostura Bitters
Method
Take said elegant champagne flute and place a sugar cube inside. Soak the sugar cube with Angostura Bitters, add the Hennessy VS and fill the glass with champagne. Garnish with a thin strip of orange peel. This is indulgence for one and not for sharing…
Bellini
Probably the most famous of all champagne cocktails and again, very easy to make.
Ingredients
25ml peach puree
100ml Champagne Delamotte Brut NV
Method
Pour the peach puree into the champagne flute and top up with champagne. Voila!
Gloria
Far from Handel's 'Gloria', this wine cocktail is nonetheless glorious.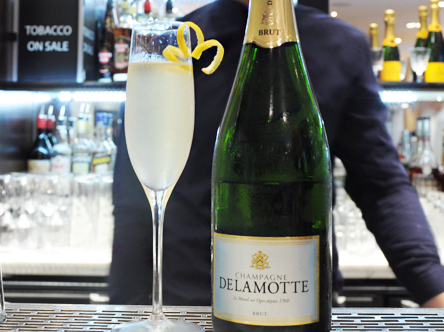 Ingredients
30ml tequila
15ml Gomme Syrup
15ml lemon Juice
Champagne Delamotte top up
Ice
Lemon zest twist to garnish

Method
A little bit more effort is required to create this sophisticated citrus concoction. Take a cocktail shaker, add the tequila, Gomme Syrup, lemon juice, and ice. Shake! Strain the contents into a chilled champagne flute and top up with champagne. Finish off with a lemon zest twist garnish.
Pornstar Martini
A rather risqué name… but this cocktail is one of the most popular on Devonshire Terrace's menu – and it's not difficult to see why. Not only does the floating passion fruit and delicate pink colour of the drink make it visually appealing but the delightful mixture of flavours and the supreme addition of champagne raise this cocktail to pure decadence.
Ingredients
50ml Carriel vodka
12.5ml Passoa passion fruit liquor
12.5ml lime juice
12.5ml vanilla Syrup
40ml Champagne Delamotte Brut NV
Passion fruit garnish

Method
To make this cocktail put the vodka, Passoa, lime juice and vanilla syrup into your cocktail shaker and shake. Strain over a martini or coupe glass and top up with the champagne (a double shot-glass worth). Garnish with half a passion fruit and seeds.
Wanton Abandon
This champagne cocktail smells like summer! The pungent aroma of strawberries gives the illusion that it's far more wholesome than it actually is… This is sure to be a hit at any party.
Ingredients
5 hulled strawberries
50ml Belvedere Vodka
15ml lemon juice
12.5ml sugar syrup
Champagne Delamotte top up
Method
Start by mashing all the hulled strawberries in the shaker. Add the vodka, lemon juice, and sugar syrup then shake with ice. Fine strain into a chilled martini glass, top up with champagne and garnish with a strawberry. Drink with wanton abandon.
Do you have any good wine cocktail recipes? We would love to hear them! Tweet us or let us know via Facebook. Or you could post a comment below. Merry summer drinking!