Chile is a land of drama, of contrasts and vast extremes within formidable natural boundaries.
Chile is the longest country in the world, unfurling itself over four thousand kilometres of Pacific coastline from the Peruvian border to Antarctica. Yet it is also narrow, squeezing itself into a comparatively modest two hundred kilometres from the ocean to the Andes, its eastern border with Argentina.
Chile is also astonishingly diverse in terms of its topography, soils and climate. To the north, close to the Bolivian border, lies the Atacama, the driest non-polar desert on earth: an other-worldly lunar-scape terrain, with light so bright and skies so clear, it is a mecca for astronomers. Southern Chile is equally remote: spare and rugged in parts, while elsewhere dense pine forests thunder with waterfalls, and deep lakes lie serene beneath fuming volcanoes – of which Chile has some five hundred still active! To the east rise the mighty Andes, crowned by the Aconcagua, at seven thousand metres the highest mountain in the Americas, presiding magisterially over an entire continent.  (For those with the grit, stomach and stamina, the seven-hour zig-zag over this craggy spine and down into Mendoza is exhilarating – make this drive if only once!).
Impressive and beautiful, Chile's frontiers are also unassailable, making this country something of a sanctuary for flora and fauna. Of course this includes grapevines, protected here from predators that plague other viticultural regions, the most notorious example being the Phylloxera louse that decimated the world's vineyards in the late nineteenth century.
In fact, for wine producers, Chile comes pretty close to Eden. With its diverse geography, topography, soils and microclimates, this country offers exceptional grape-growing conditions, arguably unparalleled anywhere else in the entire world. This is not news, of course! Grapes have been grown here for centuries, and the country has long enjoyed the support of passionate advocates. But it has taken the wine world itself years to wake up to Chile's greater potential, it will take time for producers to fully realise that potential, and longer still for consumers around the world to recognise it.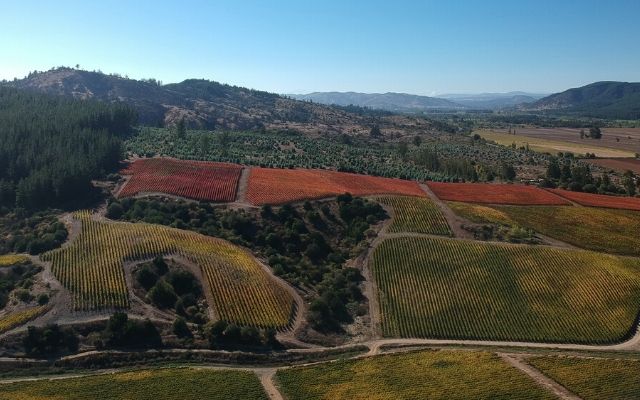 One of the reasons for this, somewhat counter-intuitively perhaps, is due to the enormous popularity of Chilean wines globally. Over the last few decades, Chilean wine exports have soared, but principally for wines at lower pricepoints. This trend accelerated as more and higher-yielding vineyards were planted the length and breadth of the Valle Central (Chile's warm, sunny Central Valley). At the same time, production facilities were scaled, keeping costs down, while favourable exchange rates did the same.  This boosted sales of Chile's high volume, fighting price wines – cheerful, fruity, 'sunshine-in-a-glass' varietal wines, the sort that flood the supermarket mid-shelf the world over. So while all this has raised awareness of Chilean wine and given it a leading role on the world stage, Chile has also been typecast. Its association with the EDLP ('everyday low price') category make it that much more challenging to develop a reputation for its other jewels.
Yet there is so much more to discover, not only at different quality levels and pricepoints, but also in terms of grape varieties. The classic French varieties were brought to Chile's Maipo Valley by European settlers in the 19th and 20th centuries. Sauvignon Blanc, Chardonnay, Cabernet Sauvignon, Merlot, Carmenere, Pinot Noir, Syrah – effectively the jet-set of the grape world, these varieties are now ubiquitous, so widely planted internationally that they enjoy a 'brand' recognition of their own.
But Chile's wine heritage goes back far further, the cradle of wine production was elsewhere, and its grape varieties entirely different. In fact, we can go back to the 1500s and the Spanish conquistadors, who brought vines with them. They sailed up the southerly Biobio River to Concepcion and planted vineyards in the Itata Valley. Production of grapes here continued for centuries but for various reasons fell out of fashion. These grapes, now referred to as 'heritage' varietals, including Pais, Moscatel and Torontel, are now experiencing a renaissance, as a younger generation of vine-growers and winemakers seek to recover and celebrate Chile's viticultural heritage and bring these special grapes and ancestral winemaking styles to a wider audience.
At the same time, many long-established producers have been undertaking impressive initiatives to push the cause and quality of Chilean wine. The pursuit of wines with elegance, and a 'sense of place' reflective of their unique origins (that age-old and very French notion of 'terroir') has led many quality-minded growers to scope out entirely new areas and sites for future planting.
Climate change plays a significant role in such projects, now more so than ever. Yet again, Chile is in a fortunate position by comparison with many other wine-producing countries, benefiting from significant cooling influences: the ocean, the mountains, and a vast range of latitudes. The quest for sites that harness these natural attributes is already revealing new terroirs, with the potential to cast Chile in a new light. Championing Chile's vast natural potential is the great opportunity and challenge now, and for future generations.
A year ago, we reviewed and expanded our wine range to reflect and honour Chile's exciting, changing viticultural and winemaking scene. The wines we have selected for our Around the World campaign, include a number of these recent finds. We celebrate Chile's viticultural heritage with old vine Moscatel from Massoc Frères in the Itata Valley. We highlight the use of ancestral techniques with the Maturana brothers' old vine Garnacha, aged in clay amphorae in the remote Maule Valley. Chile can do the noble classics with refinement: Eduardo Chadwick's Pacific-cooled chardonnay from the Aconcagua valley is discreet and fine, beautifully structured in the mould of white Burgundy.  Sauvignon Blanc also responds to an ocean breeze: Viñedos Marchigüe's Sauvignon Blanc owes its cool combination of tropical fruit and fine herb notes to its location a stone's throw from the Pacific. And be the first to try the sophisticated reds from Idahue Estate in Chile's newest appellation, the D.O Licanten, an extraordinary feat of engineering from La Ronciere. Finally to Chile's 'signature' grape, Carmenere, Vina Laurent's version is perfectly-pitched, its ripe fruit tinged with fresh leafy notes and coffee-bean.
These are just a few of the many faces of Chile, people passionate about their land and their craft, with the vision and determination to create wines with individuality and a sense of place. We hope you will enjoy this small selection, and once you have tried these, please do seek out others on our website. In the meantime, here is a little more background on these producers and the wines they have created.
---
Massoc Frères – Reviving 'criolla' grapes in Southern Chile, to make 'wines with humanity'
Massoc Frères was founded in 2015 by brothers François and Jean-Paul Massoc, Frenchmen who have lived in Chile now for many years. Their mission is to revive the heritage grapes of Chile's remote Maule, Itata and Bio-Bio regions. In this new venture, the brothers work directly with small, traditional vine-growers in these areas, who have been tending the so-called 'criolla' grapes, first planted by the Spanish conquistadors many centuries ago.
'Wines with humanity' is the adopted motto of the Massoc brothers, underlining the absolute value of human input in the process of wine production, from the growers in the vineyards to the winemakers in the cellar. François and Jean-Paul have developed strong relationships with local growers, offering their expertise in modern oenological practice while respecting local traditions. In this way, they are helping to preserve ancestral vineyards and the cause of wine production in the south.
'La Gringa' Moscatel 2017, Massoc Frères (Itata Valley)
This delicious wine is made from a single hectare of 80-year-old bush vines in the remote Itata Valley. These old vines yield tiny quantities of ultra-concentrated juice, translating into a wine full of aromas and flavours, with a unique texture, rich yet simultaneously dry and refreshing.
Dry yet aromatic, this Moscatel boasts aromas of frangipani blossom, sherbet lemons and fresh pine needles. Fresh and bright on the palate, it offers zesty flavours with hints of yellow plum and lychee. Silky in texture with a refreshing bite and long finish.
---
Viñedos Marchigüe (Colchagua) – Distinctive Sauv Blanc from coastal Curicó, cooled by Pacific breezes
Los Camachos is a new project for Viñedos Marchigüe, the fruit of a small vineyard near Chile's beautiful Lake Vichuquén, and just a fifteen miles from the Pacific Ocean in the Curicó Valley. The particular microclimate here draws out the grape-growing season, giving warm days and cool nights, ocean mists and luminous sunshine. In these conditions, the Sauvignon Blanc grapes planted here develop complex aroma precursors and a fine acid structure.
Vine growers for many generations, this long-established family business is undergoing significant development, newly reinvigorated under the dynamic leadership of Pablo Reyes. The viticultural team at Viñedos Marchigüe pays meticulous attention to detail in the vineyard, using careful canopy management techniques to ensure the grapes reach full maturity in pristine condition.
'Los Camachos' Sauvignon Blanc Reserva 2019, Viñedos Marchigüe (Curicó Costa)
This is a distinctive Sauvignon Blanc, grown around the beautiful lake Vichuquén in the remote Curicó Valley. Coastal breezes rolling in from the Pacific help cool the vineyards, yielding an expressive wine, with tropical and citrus notes but delicate too, on the green spectrum – think guava, kiwi and key lime. Elegantly textured on the palate, both refined and refreshing.
---
Viña Arboleda – hand-crafted, premium varietals, revealing the fresh expression of Aconcagua Costa
Chile is thrilling us with producers pushing boundaries in so many different ways and Viña Arboleda exemplifies this trend. It is the private project of the charismatic Eduardo Chadwick, doyen of the Chilean wine industry and pioneer of the Aconcagua Valley. This region lies one hundred kilometres north of Santiago and is named after the mighty Aconcagua, the highest peak in the Americas, also lending its name to the nearby river that runs to the Pacific.
Arboleda is a beautiful estate. The name itself means 'grove of trees', chosen in homage to the 1450 hectares of native forest that surround the vineyards, effectively a nature reserve.
The philosophy behind the Arboleda project is to create single-vineyard wines that reveal the purest expression of each unique terroir, matching specific grape varieties to specific sites. The Chardonnay is grown in the Quillota vineyard less than ten miles from the Pacific, and benefits from the Humboldt current influence, which brings morning mists and cool nights, mitigating warm summertime temperatures. This extends the ripening process and helps develop delicate aromas, flavours and acidities.
High quality fruit does not make wine on its own however, sensitive winemaking can be transformative in creating good or great. With talented winemaker Francisco Baettig at the helm, it is hardly a surprise that the wines should be so beautifully balanced, but the wines he creates at Arboleda are particularly distinctive, also understated, with more than a nod to the structure and profile of European classic styles. Yet they also retain their distinctive Chilean signature: that uniquely pristine purity of fruit, a sensation in itself, found in all very best Chilean wines.
Arboleda Chardonnay 2017, Viña Arboleda (Aconcagua Valley)
An exercise in poise, this wine is styled in the image of white Burgundy. It has a subtle white blossom perfume, supple orchard fruit laced with delicate vanilla cream, then a hint of fresh nectarine and minerals. A refined wine, reflective of its unique, distinctive site just a stone's throw from the Pacific.
---
La Ronciere – D.O Licanten – Pioneers of the newly inaugurated DO. Licanten, a cooler oasis for terroir-driven reds
If ever proof were required of the pioneering Chilean spirit, the Orueta brothers of La Ronciere are the evidence itself. The creation of Idahue Estate in remote Licanten is nothing short of astonishing.
Wine producers in the Curicó Valley since 1949, the Orueta family have always sought to produce high quality wines. In the first few years after the millennium, the current generation, Jose Antonio, Andres and Alejandro, had become increasingly alarmed by the acceleration of climate change and resolved to take action, to seek out cooler growing sites for high quality red wines. Lengthy research, took them to the coastal sub-region of the Curicó Valley, and to an area of ancient rolling hills near called Licanten.
There was nothing here but scrub, but the brothers were determined to proceed and to succeed. In an engineering project extraordinary in its scope and ambition, they cleared the scrub, levelled and remodelled the land, created the necessary infrastructure and planted their first vineyards.
Focusing only on red varieties, the Orueta family aim to producer fresher, terroir-driven wines. Idhaue Estate is dedicated to the production of small quantities of high quality reds from classic French varieties. The estate spans 200 hectares of rolling hills with many different orientations.
Due to its unique microclimate and ancient metamorphic soils, Licanten has been recognised as a new denominacion de origin (D.O). So far Idahue Estate is the only property to be established here.
Precision viticulture and the latest winemaking tech are helping the brothers to achieve wines of the highest quality. Fully committed to long-term sustainability initiatives, the brothers have also won certification for Idahue Estate under the Wines of Chile Sustainability code.
Malbec 2017, Idahue Estate, La Ronciere (D.O Licanten)
This is a distinctive style of Malbec, intense and concentrated yet refreshing. Its dark, savoury fruit is complex with hints of leather and spice.  The palate is silky and refined, displaying lovely rich fruit with a liquid core and a mineral, graphite undertone. It has firm, ripe tannins, fresh acidity and a graceful, long finish, enhanced by judicious ageing in high quality French oak barrels.
---
Viña Laurent – Independent boutique winery producing Chilean wines with a French accent
Damien Laurent grew up in the Bordeaux countryside and spent school holidays helping his grandfather to fill wine barrels. After oenology school he returned to manage the family estate Chateau L'Escart with his Chilean wife Lorena. Twelve years later, they decided to follow their dream back to Chile, to start their own venture.
Attracted by the beautiful landscape and viticultural potential of the Maipo Valley, Damien and Lorena planted their first vineyard there in 2008. While the estate is not officially certified organic, the Laurents follow organic methods, eschewing chemical treatments. Meticulous in their viticultural practice, they tend their vines with kid gloves, aiming to create a balanced ecosystem in their own vineyards as well as those of their partner growers in southern Chile.
In 2011, the couple designed their own functional winery, where they vinify in small volumes, working with a range of different grape varieties from small parcels. They ferment with indigenous yeasts in a combination of open-topped barrels and small oval tanks, aiming to express the innate character of each varietal and terroir.
'Inocente' Carmenere 2018, Viña Laurent (Maipo Valley)
A quintessential expression of Carmenere from the heart of the Maipo Valley. The wine has an intriguing nose, characteristically Carmenere with its loganberry fruit and green notes. The palate is silky with rich, dark raspberry/loganberry fruit and cream oak on the palate with mineral notes. Mouthwatering acids keep it refreshing and lively.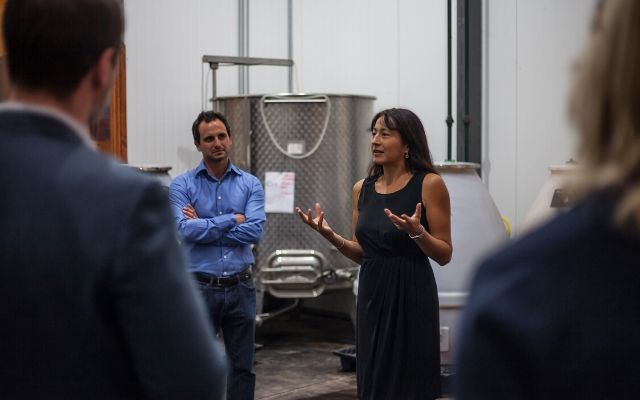 ---
Maturana Wines – Hand-made wines from heritage grapes grown in Loncomilla, Maule Valley
Chile's major earthquake in 2010 was catastrophic for much of the wine industry. Like so many others, José Ignacio Maturana saw his family house and vineyards destroyed by the quake. As a result, he was forced to rebuild his business and took the decision to focus on premium wines that would reflect their 'terroir'. With that in mind, Jose Ignacio, former chief winemaker at renowned winery Casa Silva, travelled to Burgundy in 2011 to produce wine during the Chilean winter. There he immersed himself in the techniques used in the region, aiming to understand from within how small producers were working traditionally to make high-end wines.
Back in Chile, he and his family started to produce unique wines that they hoped would display a sense of place and represent a way of life. They created Maturana Wines, a project drawing on vines which are at least 70 years old, and worked by hand according to organic principles. In the winery, fermentations take place naturally and at their own pace. The objective is to produce wines with the fruit expression and character of their native origins and vintage.
Garnacha 2018, Maturana Wines (Loncomilla, Maule Valley)
This delicious Garnacha is the fruit of a four-hectare vineyard in the Loncomilla area, a remote sub-region of the Maule Valley. Interestingly, while the Garnacha vines themselves are approximately four years old, they were top-grafted onto the roots of Pais vines of up to 120 years old.
Such ancient vines have long-established root systems so can be 'dry-farmed' without irrigation – both environmentally friendly and cost-effective. The tiny quantities of grapes yielded from these old vines were first fermented in stainless steel tanks, using wild yeasts. The wine was then aged in clay amphorae – the world's most ancient wine maturation vessel, now experiencing a resurgence – for approximately ten months prior to bottling. Allowed to fall bright naturally, and bottled without fining and only a light filtration, this is essentially a 'natural' wine, naturally balanced with very low addition of sulphites.
The wine is diaphanous and bright, with a cherry hue. Its flavours span fresh cherries and minerals, liquorice and the warm garrigue. The palate offers bright, crunchy fruit but the texture is silky smooth too, with surprising grip and good length. Serve lightly chilled, to bring its delicious bright aromatics to the fore.
---
Explore our Chile's Many Faces selection:
https://www.corneyandbarrow.com/chile-many-faces-around-the-world.html
ARTICLE BY REBECCA PALMER – ASSOCIATE DIRECTOR AND BUYER AT CORNEY & BARROW