By Tiffany Vernon, Copywriter
Port is a Christmas staple for many during the festive season. Sumptuously sweet and rich, boasting layers of fruity flavours and spices – it's not hard to see why this drink is so popular! But before I dive into what you should be drinking this Christmas, let's perhaps start at the beginning – what exactly is Port and why does it taste the way it does?
A LITTLE BIT OF HISTORY:
It is widely acknowledged that the British had a very big hand in shaping Port and being the first consumers of this fortified wine. It all started in the 17th century when trade wars between the English and French meant French wine was temporarily prohibited from being imported into England. This resulted in English Wine Merchants seeking alternative avenues for wine supplies across Europe. Given the existing good relations with Portugal, this seemed like a logical starting point. The UK Wine Merchants flocked to Portugal, firstly scoping out the northern coast where they discovered the 'green wine' Vinho Verde. The consensus was, however, that these wines were too light and astringent, so they moved further inland towards the Douro Valley. Here, the red wines were dark and bold, brimming with tannins and an inky black colour – quite the opposite of their prior discovery. Eager to rush these wines back to London, the merchants felt they first needed to add a stabilizing agent to ensure the wines survived the long journey home. Their solution was to add brandy, fortifying the wine.
Whilst this ignited the concept, the addition of Brandy to an already fermented wine isn't quite the iteration of Port as we know it today. It wasn't until around 1678, when a Liverpool Wine Merchant sent his sons to Portugal in search of wine, that the final piece of the puzzle was realised. The sons arrived in a mountainous town, high above the River Douro, where they stumbled upon a monastery. Here, the monks made wine, but crucially, they were adding spirit during the wine's fermentation, which killed off yeasts (along with any bacteria) and resulted in a richly sweet and alcoholic red wine. This sparked a revolution – transforming the bitterly dark 'blackstrap' wines of the Douro into deliciously distinctive reds that slipped down far too easily. The boys returned to England with their findings and the people rejoiced (at least I assumed they did), but more importantly, Port was born.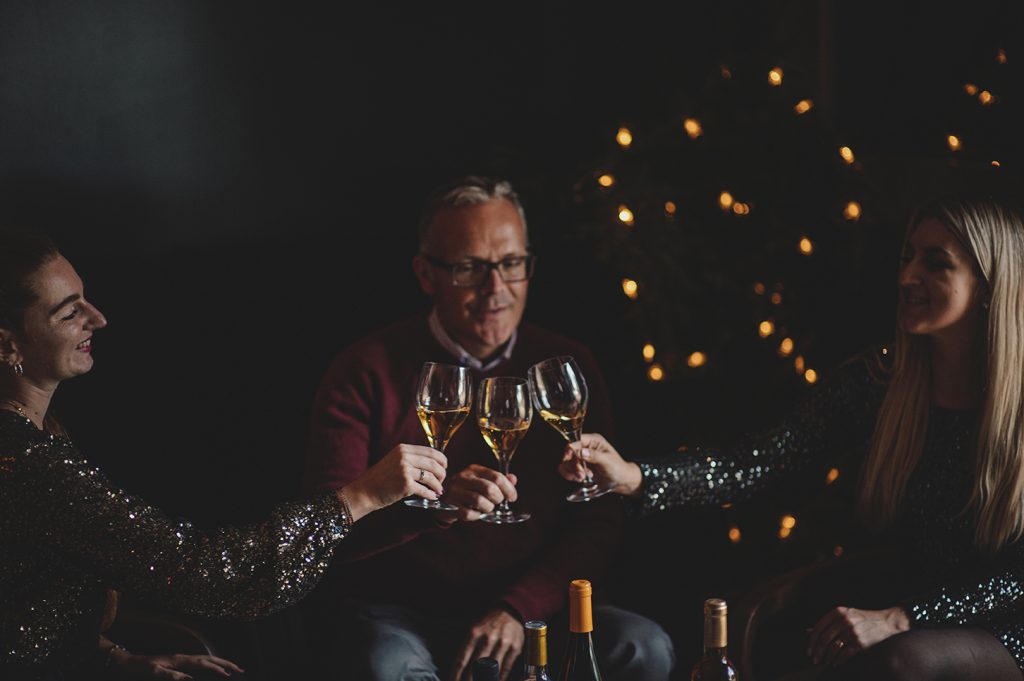 THE VINEYARDS:
Whilst the winemaking process is the crux of what makes Port unique, of course, the grapes themselves have a big part to play too.
There are three different sub-regions within the Douro: Baixo Corgo, Cima Corgo and Douro Superior, with varying terroir (such as soils, aspects and altitude) that all have an influence on the grapes. The vines are famously planted on super steep terraced slopes broken up by dry stone walls, making for dramatic vistas but prove to be extremely hard for vineyard workers to maintain.
Although there are more than 80 different permitted grape varieties, there are only really five black varieties favoured for Port production:
Touriga Nacional: Probably the most famous variety, these small, thick-skinned grapes are low-yielding but produce wines of great depth with masses of fruit concentration and tannins.
Touriga Franca/ Francesa: This is also known for its intensely fruity character and tannic structure but is more aromatic than Touriga Nacional, with a seductive floral perfume.
Tinta Roriz: More commonly known as Tempranillo in Spain, this grape fares well in hot conditions and produces wines that develop great complexity and elegance with age.
Tinta Barroca: Lusciously sweet grapes with lovely perfume and great depth of colour, this variety can add softness to the wine.
Tinta Cão: One of the oldest varieties of the Douro, this produces very low yields but retains good vigour on poor soils. It offers acidity and texture to the wine, giving it great longevity.
Historically, the Douro vineyards were planted with an array of mixed varieties, with up to 30 different grapes planted in the same plot. This meant winemakers couldn't say for sure which varieties were blended together to make their wines, so instead referred to the constituents as 'field blends'. Whilst this still regularly happens today, extensive research back in the 1970s meant vignerons were able to mostly identify their grapes and gained a greater understanding of which varieties to focus their efforts on moving forward.
THE WINEMAKING:
It's not just the addition of spirit that makes these wines so unique. In order to achieve the level of colour and tannins stylistically necessary to make Port, winemakers need to extract as much as possible whilst the wine is in contact with the skins. This maceration process can usually be achieved in around 10 days but could take as long as two to three weeks. However, there is a curveball for Port producers – the fortification of the wine occurs just two to three days into fermentation. Given the limited timeframe, this means the winemakers need to make the maceration as vigorous as possible and this is where foot treading comes in!
Traditionally, Port houses (Quintas) have large granite troughs called Lagares where the grapes could be trodden and fermented. Perhaps not the most pleasant or glamorous side of winemaking, but feet are perfect for squishing the grapes without crushing the pips inside, which would impart bitter phenolics into the wine. These Lagares will require approximately 10-30 people to stomp away for 2-3 hours (hopefully, they are rewarded with wine afterwards!). Of course, today, it is more common practice to use robotic 'feet' instead or autovinifiers to mimic this process. Once fermentation is underway, the feet team can then take a rest.
After 24 -36 hours, the wine is transferred from the Lagares into vats, where a regional grape spirit called Aguardente is added to the wine. Known locally as 'fire water', this spirit is specifically 77% alcohol and is what can be considered an unaged Brandy. The addition of Aguardente kills the yeasts present, who have been busy gorging themselves on the grape sugars, resulting in arresting the fermentation before all the sugars are consumed and thus creating a sweet wine.
The wines are then aged in vessels for a period of time before bottling. The maturation time is dependent on the desired Port style – the longer the wine spends in a wooden cask, for example, the more it will take on nutty, dried fruit, spices and caramel characteristics. In contrast, those aged for a shorter period in cask (or having no wood contact at all) will preserve jammy fruit flavours. This maturation stage traditionally took place in lodges within the town of Vila Nova de Gaia, but I'll come onto that shortly.
PORT STYLES:
If you skipped over all of that, I won't take it personally (well, maybe a little), but this is the part you really want to pay attention to: what are the different Port styles and how do they taste?!
Ruby: Probably the best-known style, Ruby is the simplest and least expensive Port. These are youthful and intensely fruity wines aged for around two to three years in bulk, be it in wood, cement or even stainless steel. Reserve Ruby is a step up in quality with more colour, depth and flavour compared to your standard Ruby.
Recommendation: Corney & Barrow Finest Reserve Ruby is sumptuously rich, laden with blackcurrants and cherries laced with a black pepper spice; this is incredibly moreish with a silky mouthfeel.
Drinking window: This is made to enjoy during its youth when it's fresh and vibrant, so don't delay and ensure you have a bottle to hand for this Christmas!
Food Pairing: The wine to have beside your mince pies and Christmas pudding, or even some kirsch cherries dipped in dark chocolate.
Late Bottled Vintage: More commonly known as 'LBV', this is a Ruby-style wine made from a single vintage and aged for a period of four to six years following the harvest. These wines tend to be made in good but not declared vintages (see Vintage Port for a further explanation) so they can display good depth and flavour but rarely meet the complexities of a true Vintage Port. Traditional styles (often labelled as 'Bottle Matured') invariably throw a sediment deposit and thus require decanting, but more commonly today, these wines are fine and filtered before bottling so they are ready to drink on release.
Drinking Window: Increasingly ready to drink upon release but can also be aged in bottle for four to six years before you tuck in!
Food Pairing: Enjoy with chocolate yule log or stilton (but not together).
Crusted Port: Often regarded as 'the poor man's Vintage Port', this wine gets its name from the sediment build-up due to its ageing in bottle. It is, in fact, a blend of vintages and not from a single harvest but develops in the bottle to provide you with a dark and full-bodied style. Released from Oporto at least three years after it's bottled, these wines were made specifically for the British market and provide an affordable alternative to the revered Vintage Port.
Drinking Window: Much like a true Vintage Port, the longer this is aged in bottle, the more complexity and character it will build. However, as it is not of the same quality as Vintage, it is unlikely to improve over a period of decades.
Food Pairing: Match to mature cheeses or chocolate-based desserts.
Vintage Port: These represent the best wines made in a single outstanding year. As the most expensive Port on the market, these wines only account for less than 1% of all Ports sold, yet they receive the most attention. Only the best quality grapes (invariably from the Cima Corgo subregion) picked at optimum ripeness following an exemplary summer have the potential destiny to become Vintage Port. Traditionally aged in wooden Port 'pipes' (the equivalent capacity of approximately 720 bottles) for two to three years, the vintage can only be 'declared' by the IVDP (Instituto dos Vinhos do Douro e Porto) once they have approved samples from the Quintas and proposed quantities for the market, following the second year after harvest. As a general rule of thumb, there are only three declared Vintage Ports released every decade.
Each Port house will typically have its 'flagship style'; some producers concentrate more on freshness and red berry fruit, whilst others aim for dark and spicy notes – the best way to become familiar with these styles is by tasting them. Or some Google research if you prefer not to have an alcohol-induced headache.
As these wines are built to last, the bottles are generally made from thicker and darker glass to better protect the liquid inside. You will very often see a lick of white paint on the bottle too – this is an easy indicator for the winemaker to recognize the bottles of Vintage Ports stored and ageing in the Quinta cellars before they are labelled.
Recommendation: VZ Lemos & Van Zellar 2015 Vintage Port is made by the legendary Van Zellar family, who have been crafting fine wine and Ports in the Douro Valley for over 400 years. Although not widely declared, the 2015 vintage Ports show great finesse and are very affordable. This example from VZ displays freshness and refinement with bright wild berry character coupled with attractive floral notes and warming spices.
Drinking Window: A charming and approachable vintage which can be enjoyed a little sooner than many, this will be fabulous for Christmas but has the potential to age for the next decade.
Food Pairing: Due to its complex flavours and full body, Vintage Port can match an array of dishes from dark chocolate to earthy nuts and dried fruit, but perhaps the best pairing is with blue cheese. Bring this out at the end of Christmas Day to sip alongside a festive cheeseboard, and don't forget, you can extend enjoying your Vintage Port on Boxing Day accompanied by leftovers too!
Top Vintages: Keep your eyes peeled for some of these highly regarded vintages; 1945, 1948, 1963, 1966, 1970, 1977, 1983, 1985, 1992, 1994, 1997, 2000, 2003, 2007, 2011, 2016, 2017. But remember, a Vintage Port has to be declared, so if the Port House has released a wine, it's going to be very good whatever the vintage…
Single Quinta Vintage: After laws around shipping wine to the town of Vila Nova de Gaia to age in barrels were relaxed in 1986, it allowed smaller Quintas to age their Port on-site. Traditionally, this town was considered to have the best conditions for maturing Ports due to its cooler climate and higher humidity levels. However, it is dominated by the larger Port houses who could afford to purchase large buildings here, meaning smaller Quintas would have to sell their wine in order for it to be aged according to law and therefore sold as Port. The change in ageing location laws meant Vintage Ports styles could be made every year even if they hadn't been declared, because now the little guys didn't need to sell their wine to the big boys.
These 'Single Quinta' Ports are therefore made in good but not outstanding years. Generally, if a vintage is declared, these wines will go in to make a full Vintage Port instead. It is worth noting, however, that unlike Vintage Ports, Single Quintas are often held back by the producers and further aged in bottle for around ten years. This means they are ready to drink upon their release – not to mention they can offer great value for money!
Tawny Port: So this is where things change a bit. Tawny Port is named so due to its colour, which is a result of its extended ageing in barrels, stripping out the ruby red colour and taking on a more amber-brown hue. The grapes used to make these wines also tend to be lighter in character, often grown in Baixo Corgo. Reserve Tawny is aged for around seven years, but the ageing regulations for 'standard' Tawny are more relaxed. The oxidative ageing results in a Port that boasts nutty and caramel flavours nuanced by dried fruit instead of the fresh and vibrant jammy fruit of Ruby Port.
Drinking Window: These are ready to enjoy immediately upon release.
Food Pairing: Pair Tawny with your stollen or Dundee cake this Christmas for a deliciously nutty and caramel-laden combo!
Aged Tawny: Made from wine of the highest quality, aged Tawnies are often crafted from undeclared vintages which would have otherwise become Vintage Port. Normally left in barrel for a minimum of six years, an age statement appears on the label to indicate the average age of the wine owing to the fact it is a blend and therefore hard to be precise. The IVDP tastes and approves all Tawny samples to confirm whether the age statement conforms to the expected style. Although the age statement is a rough guide, the bottling date must appear on the label; when considering that Tawny Port is prone to rapidly oxidizing, it is best to drink these wines soon after it has been bottled to avoid the deterioration of fruit flavours. These wines won't build up any sediment in bottle and can be enjoyed lightly chilled – as they frequently do in Portugal under the baking sun!
Recommendation: Corney & Barrow 20 year old Tawny Port boasts layers of figs, candied orange peel and walnuts sprinkled with baking spices and a splash of caramel.
Drinking Window: Perfect for Christmas, this is ready to be drunk now. Unlike Ruby and Vintage Ports, however, you can enjoy a bottle of Tawny over the course of a week once opened.
Food Pairing: Due to its nutty nuances, dried fruits and spiced toffee aromatics, aged Tawnies pair perfectly with cinnamon-laden desserts, biscotti and crème brûlée, but will also partner up with Pecorino and aged Manchego beautifully.
Colheita: Translating as crop or harvest from Portuguese, it would be understandable to think of these as Vintage Ports; however, just to confuse things, they are in fact very different! Colheita Ports are effectively Tawny Ports from a single vintage. They must be aged in wood for a minimum of seven years, but most Quintas extend this ageing period considerably. These wines have all the hallmarks of the nutty Tawny style but simultaneously express a single vintage. Both the harvest date and the bottling date appear on the label.
Drinking Window: To enjoy them at their best, drink a Colheita Port within a year from its bottling date.
Food Pairing: Much like Tawny Ports, these work well with nut-based sweet treats or aged cheeses, but a particular favourite match of mine is hazelnut praline and florentines.
White Port: Yes, White Port is a thing and it's delicious! Made very much in the same way as its red counterpart (without the long maceration on skins), it often has some residual sugar for that touch of sweetness and can be aged in wooden barrels for several years, depending on the desired style. Crafted from a field blend of local white grapes, such as Arinto, Boal (Sémillon), Gouveio, Viosinho and Rabigato, these wines are bursting with stone fruit, citrus peel and nutty characteristics complemented by a freshness you might not expect from Port.
Drinking Window: Ready to drink upon release and no need to decant. Best sipped chilled under the beating Portuguese sun, but I'm sure the heat from a roaring fire will also do the trick. Maybe.
Food Pairing: Delicious as an apéritif, top up your glass with tonic water and add a sprig of mint whilst you snack on salted almonds – perfection!
Pink Port: Not a consequence of the recent Barbie Movie, the first rosé Port was actually launched in 2008 with Croft Pink – creating a whole new category for this centuries-old product and, in its wake, has created a new following of younger Port drinkers. Of course, many other Quintas jumped on the bandwagon and brought their own version of Pink Port to the market, which is essentially a light Ruby Port without the heavy-duty maceration.
Drinking Window: Another style to enjoy in its youth, keep this out of the sunlight so as not to damage its pretty colour.
Food Pairing: This style really is a bit of fun and more commonly associated with cocktail recipes rather than gastronomy, but it is sure to pair well with sheep milk cheeses, such as Manchego, or light, red-berried desserts.
For more festive inspiration and shopping, visit our Christmas Hub.