Nothing lifts the spirits quite like that first glass of champagne or sparkling wine. Perhaps it's partly the theatre – the rite and sight and sound, like some grand opening. And as with so much in life, there is sensation in anticipation – the slow unzipping of the foil, the Pavlovian pop of the cork, the liquid frothing eagerly in the glass, the tiny bubbles rising. And then the scent and sensation of that first captivating mouthful.
This is the wine of special occasions, of parties, toasts and celebrations. Or quite simply, an elegant glass (or two) before dinner. It is said we should always keep a bottle of champagne in the fridge for special occasions. But I have come to think, that just having that bottle of champagne in the fridge, is special occasion enough. And a welcome treat, particularly in these challenging times.
The world of sparkling wine has never been more thrilling or diverse than it is today, and never have more styles been so available. This trend has accelerated in the last decade, due in part to the phenomenal rise in popularity of prosecco as a respectable 'everyday' alternative to champagne. This has seen a certain democratisation of bubbles in many markets, fuelling global demand for sparkling wines that producers have been understandably eager to exploit. So these days, it is a buyer's market, and we are spoilt for choice.
As always, it helps to have the insider track, particularly in a world as specialised as wine. So as usual we've done the ground work for you. This selection was an absolute joy to compile. It brings together half a dozen of our favourite sparkling wines and champagnes, all of outstanding quality, all from exceptional producers, remarkable in their own unique ways.  We hope you will enjoy these wines as much as we do. Here is a little more about them, the land and the people who made them.
---
Le Colture Fagher Prosecco DOCG Brut NV
Le Colture make 'proper' prosecco – Prosecco come che se dis! ('prosecco as it should be' in local dialect). The Ruggeri family has been growing vines here since the 1500s. Their wine estate, appropriately called Le Colture (meaning 'the growers') is based in the pretty village of Santo Stefano di Valdobbiadene, the true heartland of prosecco production. The vineyards here are classified as DOCG – Denominazione di Origine Controllata e Garantita – Italy's highest quality denomination.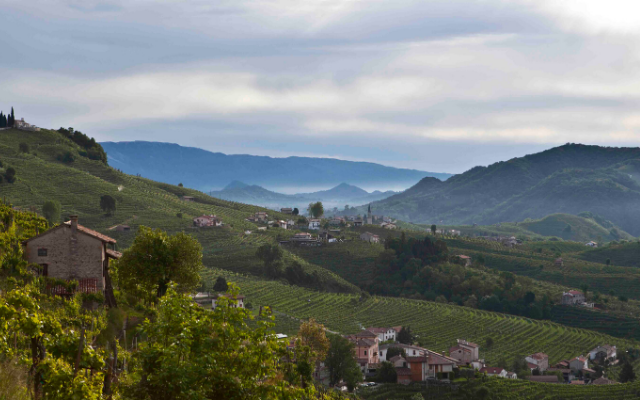 The reason for such quality lies in the extraordinary landscape, so unusual and beautiful that it is protected by Unesco, with its winding valleys, lush, tumbling greenery and surprisingly vertiginous hills. These hills are the key to prosecco of quality. 'Prosecco di collina' as the locals refer to their wines – 'hillside prosecco' – is the real deal: produced by 'growers' themselves, with hillside vineyards on well-drained soils, breezes that keep the vines healthy and gradients that ripen the grapes slowly and gradually. Refined and delicate with gentle fruit and fragrance, Le Colture is prosecco as it should be.
---
Bodega Ruca Malen Sparkling Brut Traditional Method NV
While many different countries and regions are now making high quality sparkling wines, Argentina rarely features in the roll-call. So we thought it would be interesting to include Bodega Ruca Malen's traditional method sparkler in our special selection.
Located in the heart of Mendoza, Argentina's famous wine town in the foothills of the Andes, Bodegas Ruca Malen was set up in the late 1990s. One of its founders had helped pioneer sparkling wine production at Bodegas Chandon, Moet & Chandon's Argentinean outpost, and so it was inevitable perhaps that alongside their production of premium varietal wines from Malbec, Cabernet Sauvignon, Chardonnay et al, Ruca Malen would eventually experiment with sparkling wine.
Of course, creating sparkling wines requires a different approach, and time for vineyards to be adapted for sparkling wine production but finally, just 5 years ago, we were delighted to be the first of Ruca Malen's importers to taste their inaugural sparkling wine. The fruit of high altitude Pinot Noir and Chardonnay grapes, and produced in the champagne method, the wine is aged on the lees for eighteen months, then rested in bottle for six months prior to release. Stylish, flavoursome and beautifully balanced, this is a delicious sparkling wine, and outstanding value for money.
---
Champagne Guy de Chassey Grand Cru Brut NV
We have been working with the de Chassey family for decades, and 'Guy' – as the champagne is affectionately known at C&B – is a longstanding favourite of our staff and customers alike. Champagne growers with 11 hectares of grand cru vineyards in the village of Louvois and the wonderfully named Bouzy, in the heart of the Montagne de Reims. The family used to sell all their grapes to the big Champagne power-houses such as Laurent-Perrier, but have been making their own champagnes for some time.
These days, Guy de Chassey is owned and run by Marie-Odile de Chassey and her daughter Ingrid, the fifth generation. While they grow all three champagne varieties, Pinot Noir is the predominant grape, as expected given their location.
Guy de Chassey is a true 'grower champagne', hand-made in small quantities. Ingrid uses an original basket-press, yielding only the finest juices, and blends her champagnes to a long-held family recipe incorporating up to a third of mature reserve wines. The champagnes are aged for three years – twice the 'standard' ageing period sur lattes – prior to riddling and disgorgement. Classically structured, beautifully made, Guy de Chassey's champagne have character, depth and substance way beyond its modest pricetag.
---
Breaky Bottom Cuvee Reynolds Stone Brut Traditional Method 2010
Breaky Bottom is a tiny, legendary wine estate nestled in a hidden fold of the South Downs, just 2km from the English Channel. This is an ancient place, mentioned in the Domesday book, a dry chalk valley (this is what a 'Bottom' is in old Sussex vernacular!), protected from the elements. Peter Hall, now in his 70s, who owns and still runs Breaky Bottom, discovered it as a run-down farm but saw its viticultural potential immediately. The first vines were planted in 1974, making Breaky Bottom one of England's oldest wine estates, and certainly one of its smallest, with just 2.3 hectares of vines!
From this unique terroir, Peter produces tiny quantities of traditional method sparkling wines of exceptional quality and character. Kid-glove attention in the vineyards and extended ageing on the lees and cork are both crucial.
The wines are only ever from a single vintage and as such, are expressions of the particular vagaries of the year, giving them a distinct identity. Peter's wines are as characterful and deep as the man himself. The wines all come from a single vintage. This particular cuvée, based predominantly on Chardonnay (70% of the blend), with Pinot Noir and Pinot Meunier (each 15%), is dedicated – as are all Breaky Bottom's wines – to someone of special importance to Peter. Reynolds Stone was the famous wood-engraver and creator of the original Breaky Bottom label with its distinctive, delicate lettering.
---
Champagne JM Labruyere Prologue Brut NV
This is a recent venture from the Labruyère family, spearheaded by the dynamic Edouard Labruyère. A passionate advocate of terroir – unsurprising given his Burgundian background – Edouard had long felt that the Champagne region should do more to celebrate its many exceptional sites and set himself an objective 'to create a unique champagne from the greatest terroirs of champagne'.
The saying goes: if you want something done, ask a busy person. Edouard also oversees the family domaines at Domaine Jacques Prieur in Burgundy, Domaine Labruyère in Moulin-a-Vent and Chateau Rouget in Pomerol! So it did not take long for the dream to be realised. Extensive research led him eventually to an old estate in historic Verzenay, probably the most prestigious of the grand cru villages of the Montagne de Reims. And so, Champagne JM Labruyère was born, dedicated to Edouard's 19th century ancestor Jean-Marie Labruyère.
'Prologue' is the fruit of small vineyard plots, vinified separately to retain their distinctive character before creating the blends. 70% Pinot Noir and 30% Chardonnay, the champagne also incorporates a small amount of reserve wines, before extensive ageing sur lattes. The current cuvee is based on the 2012 vintage and was disgorged in 2016, allowing ample time for the wine to marry and meld prior to release.
---
Champagne Delamotte Blanc de Blancs NV
The sixth oldest champagne house, founded in 1760, Chamapagne Delamotte maintains an understated profile, one that might seem unusual given its history, pedigree and absolute quality. But in a world of glitz common to so many commercial champagne brands, this discreet Maison de Champagne has long been the smart choice of those who know: 'pour ceux qui savent'  might be Delamotte's marketing strapline, if ever it felt the need to have one. Based in the Côte des Blancs in the village of Le Mesnil-sur-Oger – perhaps the greatest grand cru of all – Delamotte is an unapologetic champion of the chardonnay grape.
The local in-joke refers to it as 'the other great blanc de blancs' – a wink to legendary sister house Champagne Salon, with whom it shares so much DNA, as well as its elegant headquarters, ownership and management team. Under the aegis of the dynamic Didier Depond, President of both houses and passionate advocate of the chardonnay grape, Delamotte continues to forge its reputation for quality.
Delamotte Blanc de Blancs Non-Vintage is undoubtedly the house's most emblematic cuvée. Produced in small quantities, the current release is based on the 2013 vintage, and spent almost 5 years on the lees prior to disgorgement in Spring 2018. The bottles were allowed to rest in the cellars prior to release.
Explore our sparkling wines & champagne selection:
https://www.corneyandbarrow.com/sparkling-and-champagne-around-the-world.html
---
Article by Rebecca Palmer – Associate Director and Buyer at Corney & Barrow