The Loire lies at the heart of France, in so many ways, literally and symbolic.  A fascinating region of great beauty, the Loire is steeped in history and culture, a land of contrasts –of religious conflict, war, rich architecture, art, science, literature. In fact, The Loire was the centre of the French Renaissance in the 16th and 17th centuries, Rabelais was born in Chinon, da Vinci spent the last years of his life here as the guest of the reigning King, and the elaborate pleasure-palace châteaux lining the river banks bear the aesthetic imprint of the Italian Mannerists, then in vogue.
The river Loire is the longest river in France, spanning over a thousand kilometres from its source in Clermont-Ferrand to the Nantes estuary on the Atlantic. Never too far from a vineyard somewhere, the meandering river threads its way through wine lands of staggering beauty. It bisects the famous appellations of Sancerre and Pouilly-Fumé, winding its way via Orleans and through the bucolic idyll of the Touraine, past the craggy tufa cliffs of Saumur and golden amphitheatres of the Anjou, before reaching the Pays Nantais and the Atlantic estuary.
In fact, the Loire Valley is home to an impressive twenty-four different grape varieties and boasts no fewer than sixty-nine appellations! While we only have time and space to focus on a handful of these, I hope that this piece and the wines featured will encourage you to seek out more from the Loire Valley and its diverse and delicious wines.
---
Muscadet sur Lie 2018, Jean-Francois de Grand Mouton, JF Guilbaud
The Muscadet style is the 'new' cool kid on the block, back in the limelight having fallen out of fashion for some years. Its best wines are those produced in the traditional way, fermented in old oak casks and allowed to rest 'sur lie' (on their fine lees, which builds textural and flavour complexity). From the smartest sites and sensitive growers, the wines are distinctive and utterly delicious: light and elegant, with clean apple fruit, the iodine tang of the ocean and a refreshing spritz.
The vineyards of the Nantais region are found on rolling hills in between the rivers of Sèvre and Maine and are split between three appellation areas: Muscadet, Muscadet Sèvre et Maine and Muscadet Coteaux de la Loire. The Muscadet grape – officially called the 'Melon de Bourgogne' – is ideal for this location as it ripens early in a marginal climate where later-ripening grapes would fail to reach full maturity. The vineyards belonging to this domaine are sheltered from the cold winds and have maximum exposure to the sun – all resulting in richer, riper grapes. The soils here are also key to style and quality, the Guilbaud's vineyards comprise a complex gneiss with different flints and clays. These soils are held to contribute to Muscadet's distinctive minerally profile.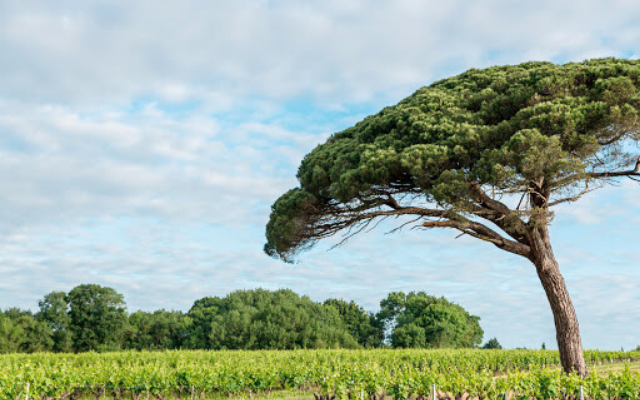 In a prime location, this family-run winery is head and shoulders above its neighbours not just in terms of elevation, but in quality. Jean-Francois Guilbaud and his wife Marie-Luce Métaireau, daughter of Louis, who acquired the renowned 'Domaine de Grand Mouton' in 1972, combined their two family estates under one name to become a super family winemaking team, crreating wines from the best parts of both domaines. The family has always taken a reasoned approach to viticulture, the philosophy of 'lutte raisonnée'. While this cooler, maritime climate brings inevitable challenges for vine growers, and suffers particularly from seasonal frosts and ongoing damp, the Guilbauds have always strived to maintain sustainable, eco-friendly practices, minimising the use of chemical treatments to favour long-term balance and biodiversity in the vineyard, soils and surrounding environment.
The family have always followed traditional production methods, working exclusively with the 'Melon de Bourgogne', the local name for the Muscadet grape, making different wines from the vines of different ages and plots of land, thereby enhancing the individual characters and of their wines. The grapes are picked and pressed gently, then the must flows by gravity for fermentation in old oak casks. The wine then spends the winter on its fine lees ('sur lie') enhancing texture and complexity of flavour.  In the springtime, the wine is gently drawn off from the cask and is bottled with only the lightest filtration, leaving some of the naturally-occurring carbon dioxide to give a refreshing light spritz. The resulting wine has a distinctive style all its own: tingly and fresh, lightly scented with jasmine flowers, it offers apple-pear fruit with the iodine tang of the ocean. A glass of this is all you need with a dozen natives, overlooking the sea.
---
The sub-regions of Touraine (the area around the city of Tours) and Anjou (around Angers) harbour a plethora of hills and valleys with lesser-known appellations that span a mouth-watering array of styles; a veritable treasure trove for the wine lover.  Some of these hidden valleys are home to Cabernet Franc, a grape with immense charm and charisma but also capricious, susceptible to the vagaries of site and Mother Nature. In better vineyards and deft hands, tended with care, this lovely grape can yield wines of great elegance, aromatic and fine with succulent berry fruit and fine, silky tannins. The appellations of Saumur-Champigny & Saint-Nicolas-de-Bourgeuil are two examples of discreet appellations making exceptional wines with their own distinctive styles.
Saumur Champigny Lieu-Dit Les Villaises 2018, Cave de Saumur
The appellation of Saumur Champigny spans…. And comprises nine separate communes. While the appellation permits three different grape varieties – Cabernet Franc, Cabernet Sauvignon and the increasingly rare Pineau d'Aunis for its red wines, the star of the show is definitely Cabernet Franc. There have been vines in this region for centuries, in fact 276 is the magic number: the year that the Emperor Probus granted the Gauls the right to plant vineyards. After the Romans viticulture continued to thrive, particularly from the thirteenth to seventeenth centuries when the lords of Breze built a manor house locally – the Manoir de la Bouchardiere – and wine became its trading currency. While the manor house is only a ruin, vines remain.
Today, as in many remote rural areas, viticulture and wine production continue to thrive in part to the structure of co-operative wineries, put in place years ago. The Cave de Saumur was established in 1956 and now counts 160 growers, each with an average of ten hectares of vines. Over time, many smaller French co-operative wineries have banded together, to benefit from economies of scale, technological expertise, management and sales teams, and the Cave is now part of the larger organisation Alliance Loire, which spans 4,500 hectares and 850 vignerons from all across the Loire Valley. This move has proved beneficial for the Cave de Saumur in a number of ways.
A turning point in the last decade was the Cabernet Franc project, a remarkable four-year initiative to re-evalute Cabernet Franc in the Loire in the interests of quality and sustainability. Led by talented viticulturalist and winemaker Sam Harrop MW, this transformative project has seen significant changes to vineyard husbandry and winemaking practices throughout the region and particularly here, where Cabernet Franc is so important culturally and economically.  Growers adhere to shared approaches enshrined in a 'cahier de charges' that has seen a move to what we would call 'sustainable viticulture', focusing on proactive, meticulous vineyard husbandry to produce healthy, ripe grapes rather than seek automatic recourse in chemicals.
While the Saumur area is generally temperate, moderated by Atlantic influences, Saumur-Champigny, an appellation in the south of the region, has its own rather special microclimate. It is particularly warm in summer (the clue is in the name: campus igni = field of fire), favouring the ripening process.  There is something of the goldilocks factor at play here. The lieu-dit (named vineyard) of Les Villaises lies on slopes of a perfect gradient and south/south-west orientation to benefit from afternoon sunshine and ripen the grapes. The magic tufa soils are also geared for quality in two ways: firstly, retaining just enough moisture – not too much, not too little – to keep the grapes topped up, and secondly, acting like a storage heater, absorbing the heat of the sun through the day only to radiate it back onto the vines during the night, bringing the grapes gently to perfect ripeness.
In the cellars, contemporary winemaking approaches have seen vast quality improvements, also enhanced by Sam Harrop's recommendations. The use of stainless steel tanks is not new, but smart fermentation techniques with precise phasing and temperature control has placed further emphasis on fruit freshness and purity.  Traditions are honoured also – the Cave benefits from a vast ten kilometre network of cellars deep underground, providing cool, dark, stable conditions, ideal for ageing. It is here that the wines undergo malolactic fermentation in casks and are then allowed to rest for six to ten months before bottling.
This is a consistently delicious wine year on year, but the 2018 vintage is particularly lovely, a factor of stupendous conditions and warm temperatures through the growing season. Immediately enticing with its aromas of summer berries and crème de cassis, the wine is supple and smooth with fine, silky tannins. Yet it retains its hallmark freshness and purity of the area and the Cabernet Franc grape itself. The perfect red for summer drinking, this would be delicious served lightly chilled too. But the beauty of this wine is also in its versatility – light and juicy enough to drink on its own, it also has the structure to partner dishes from summery salads to roasts.
---
St-Nicolas-de-Bourgeuil Les Graviers 2017, Domaine du Bourg
The village and appellation of Saint-Nicolas-de-Bourgeuil lies on the right bank of the Loire near Tours. A place of natural beauty, it was classified as a World Heritage site by Unesco in 2010. But there have been vineyards here for well over a thousand years of course, albeit on a relatively small scale. With just 800 hectares of vines, Saint-Nicolas is a tiny jewel in the Loire Valley's long necklace of appellations, much smaller and more discreet in profile than certain other names, but its wines are highly prized by insiders. Cabernet Francs grown here have a distinctive aromatic profile and structure: a depth of fruit, sense of purity and textural finesse. These characteristics can be attributed not least to its unique 'terroir' – a microclimate with low rainfall, and warm, free-draining gravel soils. In fact, Domaine du Bourg 'Les Graviers' takes its name from these soils.
This twenty-seven hectare estate belongs to husband and wife team Frédéric and Nathalie Mabileau, who inherited it in 2003 from Frederic's father Jean-Paul. It was then that Frédéric started to adopt organic and subsequently biodynamic approaches. His reasons are nothing to do with vogue, and everything to do with honouring the land and its higher potential. His way is to follow and harness the rhythms of nature, in the knowledge that this approach is more respectful of the environment. This is also a dynamic process, not an end in itself but a way to enable the terroir to express itself truly: as Frederic says: 'pas une fin en soi mais un moyen de faire parler le terroir en toute authenticite'. Terroir is king here, and the Mabileau spend most of their time in the vineyards, where they feel quality is 'made'. Their low-yielding vines are tended with the greatest of care, picked by hand and only when fully ripe, Frederic preferring to leave the grapes on the vine as long as possible. Winemaking techniques are careful, precise but uncomplicated, aiming to extract and express the natural fruit ripeness and character of the vintage, hone Cabernet Franc's fine tannins, and balance this with fresh acidities.
2017 was not the most straightforward vintage in the Loire as a whole, or indeed in many other regions of France. Many growers lost their harvest to spring frosts, but Saint-Nicolas was largely spared, and the Mabileau's vineyards yielded a pristine crop. Les Graviers Cabernet Franc 2017 is elegant and beautifully-structured, its succulent forest fruit supported by fine-boned tannins and offset by pure natural acidities, the finish distinctively mineral.  The wine's natural fruit intensity and structure makes it a versatile partner for dishes of all kinds, one of the additional advantages of the Loire Valley's Cabernet Francs. While charcuterie is a favourite local match, the wine can also handle more robust foods, from roasts to barbecues. Or simply sip on its own, lightly chilled, as a sundowner on a sunny dappled terrace.
---
The Centre Loire – or the 'Central Vineyards' of the Loire Valley – are home to the famous vineyards of Sancerre and Pouilly-Fumé, as well as a number of other lesser-known appellations, now making their mark, such as Menetou-Salon. These appellations are the spiritual home of the Sauvignon Blanc grape, which flourishes on the complex soils of the area, rich in ancient limestone, clays and flint. The rolling hills of this area harbour many exceptional sloping vineyards with their unique microclimates and complex mineral soils. These are some of the factors that make the wines of this area so distinctive.
We have selected a wine from all three of these super appellations.  All of these wines come from long-established winemaking families, with whom we have been working for many years. Products of their own unique origins, subtly different in their own ways, this trio of classic 'Sauvignon Blancs de terroir' offer a journey of discovery in themselves.
Pouilly-Fume Les Chaumiennes 2018, A&E Figeat
The famous Pouilly-Fumé appellation is located at the eastern end of the viticultural Loire, across the river from the equally famous winemaking village of Sancerre. This is the area known as the Centre Loire, or Central Vineyards Pouilly-Fumé is a small appellation in volume terms, but quality is incredibly high and the wines are celebrated throughout the world. With similar soils to Sancerre, the wines have a distinctive smokiness due to the high proportion of flint in the soils, otherwise known as 'silex'. ('Fumé' means smoky)  Pouilly Fumé is made using only Sauvignon Blanc grapes and can often benefit from a year or two in bottle to fully develop its subtle flavours and textures.
André Figeat is the sixth generation of his family to make wine at this lovely family estate.  The two-year old André, atop his father's shoulders in the cave, fell into a vat of freshly pressed juice. Happily he was retrieved safe and sound, but not before having a good taste of that precious nectar! A vigneron was born! The Figeats are amongst the oldest families of winemakers in Pouilly, but this does not mean old-fashioned: unafraid to meld tradition with modern techniques, they have equipped their winery with up-to-date kit, the objective to make the most of their exceptional terroir. André is a meticulous viticulturalist, following organic methods, though he is not officially certified.
'Sancerre in a smoking jacket' was the tasting note once proffered for this wine by a former colleague of the C&B Buying team, the brilliant Lauren Carter. Her exceptional strapline cannot be bettered. The best examples of Pouilly-Fumé do have a certain timeless tailoring, finely structured with sublime, refined fruit. This is one such example, with its classic smoky aromatics, greengage and nettle characters and fine-boned structure. Text-book poise from an exceptional vintage.
---
Menetou-Salon Le Clos du Pressoir 2018, Vignobles Joseph Mellot
Menetou-Salon is a name worth knowing! One of the so-called 'Centre Loire' appellations, which include the vineyards of Pouilly-Fumé and Sancerre, Menetou-Salon is tiny by comparison, amounting to just a few hundred hectares. However, its wines are worth seeking out, as the best have much of the pedigree of their illustrious neighbours. Menetou sits cheek by jowl with Sancerre, and its soils are broadly similar, classic Kimmerdigian clays, peppered with fossils, held to give the wines their characteristic minerality and elegance.
In fact, the Mellot family unearthed a giant ammonite – 2 feet in diameter – in their prized walled vineyard, 'Le Clos du Pressoir' which gives their wine its name. This tiny south-facing vineyard – just four hectares – has the perfect aspect and gradient to coax Sauvignon Blanc to full ripeness. The Mellot family have been growing grapes and making wine here for generations. They take a reasoned approach to viticulture – a philosophy the French call 'lutte raisonnée', favouring eco-friendly practices that encourage long-term biodiversity and balance in the vineyard and soils.
Their single vineyard Menetou-Salon is harvested by hand, the bunches selected one by one to ensure that only grapes of the highest quality are used. The musts undergo a cold pre-fermentation maceration to help promote the development of aromatic precursors ('thiols') followed by a cool, slow fermentation at controlled temperatures, aiming to preserve the delicate minerality and complex flavours of the grapes. The wine is then allowed to rest on its lees until to enhance its texture and flavour complexity, prior to botting the subsequent summer.
'Le Clos du Pressoir' is an outstanding example of Menetou-Salon from the Mellot family, captivating with its grassy scent, ripe greengage fruit and crushed seashell minerality. Beautifully-structured and expressive, with a long finish.
---
Sancerre 2018, Domaine du Nozay
Sancerre is perhaps one of the most famous wine 'names' in the world, and the most internationally acclaimed exponent of the Sauvignon Blanc grape. The vineyards of Sancerre are spread over fifteen  villages or 'communes' as they are termed locally, mostly on hillsides formed of three soil types – the 'terres blanches' featuring compact chalks on kimmeridgean marl, 'caillottes'  comprising gravel and limestone, and 'silex', which is flint. 
In the 'commune' of Saint Gemme there is a hidden valley of peace and tranquillity, home to the Château du Nozay, indeed a gem of an estate! The château itself, a gorgeous, colourful 17th century stone building with frescoed cellar and hunting paraphernalia all over its walls, certainly points to the individuality and enthusiasm of the wine and its makers.
The château and the sloping land surrounding it was bought in a rather dilapidated state by Philippe de Benoist. He constructed vineyards with his own hands in 1970, quite some feat of the imagination and physical endurance. But stamina and dedication to a cause are never in short supply at Château du Nozay. Today it is Cyril, son of Philippe and his wife Marie-Helene, now in his forties, who has taken over all aspects of running the estate. Devoted to his land and champion of terroir, he is a passionate advocate of organic and biodynamic viticulture – approaches learned as a boy when he would visit his uncle Aubert (de Villaine, of Domaine de la Romanée-Conti in Burgundy) and spend endless days in the vineyards.
Cyril is responsible for converting Château de Nozay to these methods in recent years, and spends a huge amount of time in the vineyard, tending his vines, which he thinks of as individual people and calls by name. A natural entrepreneur, Cyril is an experimenter by nature and now plays music direct to the vine roots, a practice said to stimulate and balance the vines.
If he is not in the vineyard, Cyril can be found in the winery, stirring his biodynamic tisane preparations, or tinkering with his tanks including his pride and joy: a number of concrete eggs, a recent addition to his winemaking armoury. These fermentation vessels promote different fermentation dynamics, creating wines with a subtly different textural profile. Their addition to the cellar gives Cyril a rich palette of wines from which to create his chefs d'oeuvre.
The estate wine, both organic and biodynamic, is a delicious example of Sancerre, with generous, creamy fruit and subtle minerality. Expressive of its sunny vintage, beautifully-balanced and fine.
---
Explore our Loire Valley selection:
www.corneyandbarrow.com/loire-around-the-world.html
ARTICLE BY REBECCA PALMER – ASSOCIATE DIRECTOR AND BUYER AT CORNEY & BARROW