Our resident bee expert and Miss Green Fingers Katrina (Tree) Thuis has been part of the Corney & Barrow family for over 10 years. When she is not busy supporting our Fine Wine and Broking teams, you will find her volunteering for the Bumblebee Conservation Trust – a fantastic organisation dedicated to the conservation of our precious pollinators. As she recently became one of the ambassadors of the Trust, we have invited Tree to share her love for bumblebees and a few tips on how to make your garden more bee-friendly!
Q: When did your passion for bumblebees start and why are bumblebees important?
I 'fell into' bumblebees completely by chance. I live in a small flat with a balcony in London, which was somewhat soulless when I moved in. I'd picked up some plastic plants (eeek!) and a couple of random pots with bulbs thrown into them. You were never going to find David Bellamy rooting around out there.
One day in early spring I noticed an absolute unit of a bug at my lacklustre tulips. It buzzed but it was all black. I was curious. I found out it was an 'anthophora plumipes' or 'hairy footed flower bee' (I'm not sure which name I prefer as both are smashing), and at that point I felt that if she took the trouble to visit me for my meagre offering of tulips, I should make more of an effort for future buzzy visitors. I planted more, read more and I joined the Bumblebee Conservation Trust.
You may have read that 'honeybees are responsible for one in three bites of the food we eat', but that's a bit of an urban myth. Firstly, there are more than just honeybees to consider as we have 24 different bumblebee and around 250 types of solitary bees in the UK.
Honeybees aren't in decline, but the others are facing some challenges and need our help. We've had two bumblebee species go extinct in the UK in recent history. Though a lack of pollinators doesn't mean we'd starve (because it isn't just about bees – some pollinator types would surprise you), our diets would be far less varied and yields would be lower. Anyone who takes delight in cooking or eating should take an interest in helping our precious pollinators.
Q: What can people do to help our bumblebees?
There are a few things we can do, and they don't require much. The most obvious one is planting; bees need pollen and nectar. We need to be considerate in our planting though, ensuring that we provide for them as close to all year round as possible, and making sure we focus on bee-friendly flowers.
All flowers are not equal as some have been over hybridised for colour. Any flower that is overly 'fancy' may well have so many petals that bees are prevented from accessing the pollen and nectar. Fortunately, there is a nifty site you can visit which will help you plan for year-round flowering. It even identifies 'super plants', which I focus on to get more 'bang for my buck'. https://beekind.bumblebeeconservation.org/
The other things would be to avoid using pesticides and mowing your lawn too often. Soon after C&B implemented these changes, a queen bombus terrestris (buff tailed bumblebee) made her home in our London office garden. I'd also recommend joining the Bumblebee Conservation Trust as we have done. They are the only charity in the UK whose focus is on bumblebees, and as a science-based charity, they are doing some great work in both conservation and education.
Q: How do you remember all the names of the different types of bumblebees?
Hah! Oh gosh, remembering the names can be tricky, and I don't remember them all, just a few. It comes with immersion, I think.
I've passively learnt the names of bees on social media. I always try to use both the Latin and common name when I talk about bumblebees, but it can get a little tricky as there may be variation in the common name, and some insect species may not have one at all.
As there are eight more common bumblebees in the UK, I'd suggest you start by learning those. There is also a free app called 'What's That Bumblebee?', which is for just that purpose. My advice would be to take a picture of the bees you spot so you can try to identify them later. There is plenty of support out there.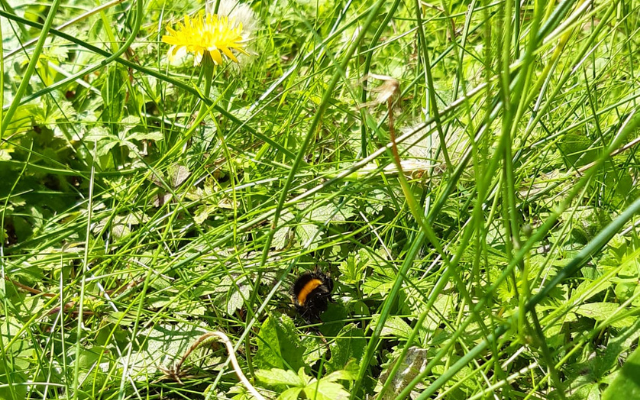 Q: What happens to the bumblebees in the winter? What can we do to prepare for spring?
You'll be seeing fewer bees flying around as the season draws to a close, and you may well see dead ones. The colonies will die out, but will have hopefully produced some of the larger, queen bees who will be gravid and looking for somewhere to hunker down for the winter to emerge next year and start setting up their nests.
As for what we can do, try to ensure you have something flowering in autumn/winter (goldenrod and mahonia and sedums for example), as the milder weather in recent years has perhaps contributed to the 'winter-active' nests. Most will be waiting for spring, but we are noticing some buzzy visitors later in the year.
You can also use the quieter time to plan your garden or learn how to identify the bees as they emerge in spring. Autumn is a great time to start planting wildflower seeds, and spring bulbs. I like winter because it gives me that time to take a step back and look at what planting worked, what didn't, and try to implement any nifty ideas.
Q: Tell us your favourite bumblebee fact
Bumblebees have long tongues, which vary in length from bombus terrestris (buff tailed) with a length of around 6.3mm to bombus hortorum (garden bumblebee) with a length of around 12.5mm. Fascinating, eh?
---
If you have any questions or would like to talk with Tree more about this, she would love to hear from you at [email protected]