Saltimbocca of Monkfish
Saltimbocca – translates as "jump in the mouth". I was inspired by the 1980's recipe created by Alastair Little. It is delicious as a starter – here served with some white asparagus, but is equally good as a main course – perhaps served with some braised lentils and French beans.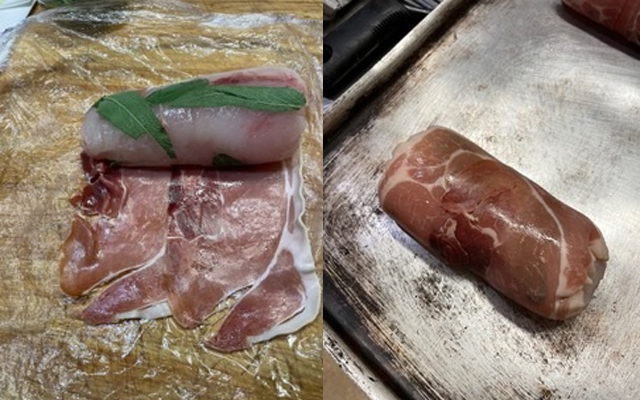 For 4 as a starter (for a main course – double the quantities)
4 pieces of trimmed monkfish tail – about 80-100g each
4 good slices of Parma ham
A bunch of sage
Half a lemon
Salt & Pepper
Butter
Method
Lay out the pieces of Parma ham flat on a board. Place the monkfish at one end – season well, place a row of sage leaves along the fish and roll the fish tightly in the ham so that the ham wraps the fish completely.
Roll in cling film and leave to firm up in the fridge – 1hr is enough, but overnight is fine.
Heat the oven to 200c – melt the butter in a roasting dish, take off the clingfilm and roll the fish in the butter before roasting for 15 minutes in the oven.
Take out of the oven – allow to rest for 5 minutes, squeeze over some lemon juice, slice into rounds about 2cm thick – and serve.
 Check out our Easter Wine, and Food pairings.