By Ida Weatherall – Visited Wednesday 27th April 2022
The winding road from Siena down to Montalcino is a charming constant of lush greenery and rolling hills. What surprised me most when approaching Montalcino from the north was the modest number of wineries, I thought that such a renowned wine making region would be jam packed with vines. Instead, the neat patches of vines are interspersed with golden wheat fields, olive groves and the iconic rows of cyprus trees.  
The track down to Il Ridolfi, lush and verdant!  
We were greeted by Gianni Macarini who runs the show at Ridolfi – it is very much a family affair with Gianni in charge of the vines and cellar aided by his son Filippo. He is a Montalcino man through and through, having lived around the ancient citadel his whole life and working in various local and reputable vineyards since 1999.  
Gianni in the vines. 
Giuseppe Valter Pierreti purchased the estate in 2011 and Gianni joined the team in 2014. Since his arrival, he has worked tirelessly to encourage organic farming in the surrounding area. He even managed to convince all the neighbouring farms to adopt pheromone insect repellent which is 10x more expensive than conventional farming but has done a world of good for promoting biodiversity. When he arrived at the estate there was only one pair of Egrets, and now there are over thirty pairs living happily in the area. 
Gianni in a newly planted site. Depending on specific conditions certain clones of Sangiovese will be used. 
As expected the vines here are 100% Sangiovese and Ridolfi currently harvest 10 hectares but have recently planted a further 10 ha with total production aiming to be 30 ha in the next 10 years. Depending on the specific site, they plant a different clone of Sangiovese and have 8 different clones across the estate.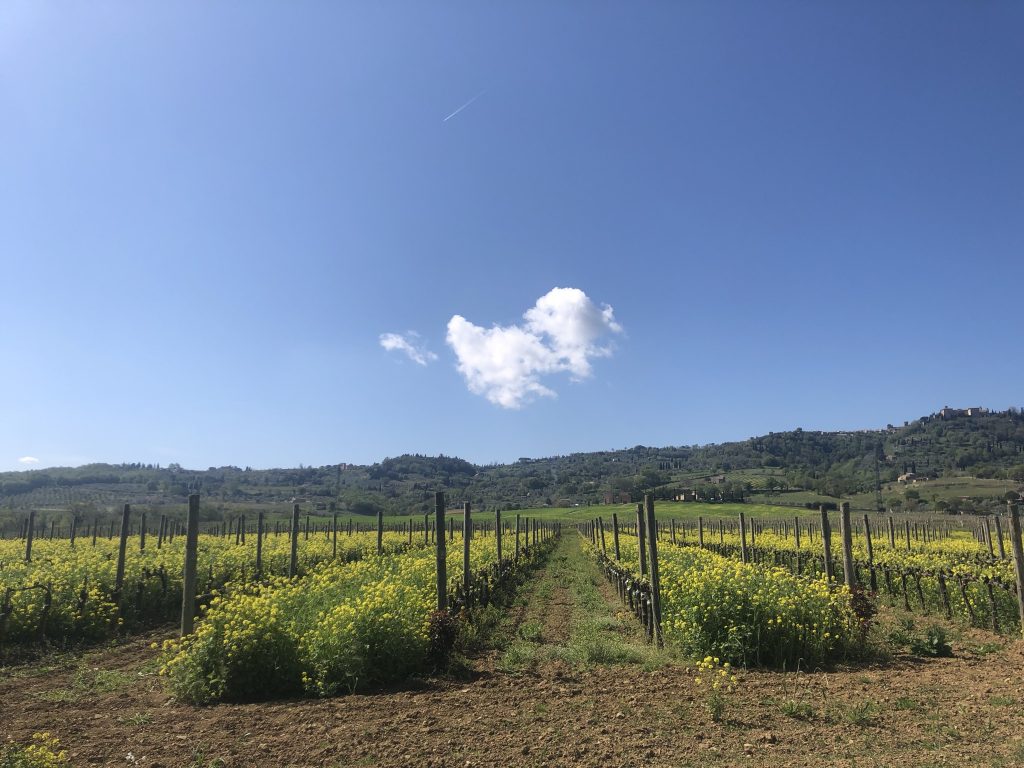 Charming spring sunshine! Gianni plants cover crops every year to promote biomass in the soil. This year was a mix of 9 different seeds to break up and enrich the soil. 
Montalcino has a high concentration of vines on the south side of the hill where vines were traditionally harvested to reach full maturity in the basking sunshine, but Ridolfi is found on the slightly cooler north facing slope. This marginally cooler climate means their wines have excellent perfume and a delicacy that could otherwise be overpowered by ripe and hot fruit.  
Gianni spent over 15 years working in local estates, a number of whom were mentored by Giulio Gambelli – the godfather of Brunello di Montalcino, who advised at 40 different estates in the region over 60 years. Gianni has been heavily influenced by Gambelli's ideals and the wine making at Ridolfi is focused on perfume and balance.  
Traditional cane pruning method with Montalcino in the background. 
Sangiovese is a curious grape variety, fickle like Pinot Noir, like Nebbiolo in its high tannin yet reasonably light colour intensity. To extract the most flavour and tannin from this grape variety most estates will practice pumping over (wine is pumped back into the storage vessel to break the cap of grape skins that naturally float to top, this encourages even distribution of skin contact promoting even and more colour and tannin in the wine) during fermentation and then many will opt for a long post fermentation maceration. (Contact with the skins after alcoholic fermentation promotes colour). 
At Ridolfi fermentation lasts about 15-20 days with natural yeasts and pumping over 4 times a day. The wine is exposed to oxygen from the get-go in controlled quantities which is believed to help longevity and balance in wines. Depending on the vintage they then leave the wine to macerate with the skins a further 90 days after fermentation.  
Once Gianni is happy with the wine, it is transferred to the very swish cellar where the fundamental aging process begins. They use botti (10,000 litre capacity barrels, for reference in Bordeaux they use 225l barrels) from five different coopers, using Slavonian, Austrian, Italian and French oak. We were guided through each of the different grains of wood and the impact they have of the wine.  
A row of impressive botti built for long term aging 
Once the wines are in the botti this is where the magic happens! Patience is imperative in Montalcino and the differences between their three wines is the time spent in botti. The 'Rosso di Montalcino' is from the same parcels of land but spends only 12 months in botti and the most perfumed, elegant barrel is chosen, these wines are designed to be immediately opened and enjoyed.  
The next level up in aging is the Brunello di Montalcino, which is legally required to spend a minimum 36 months in barrel. The extended time in large oak barrels really brings the wine together, softening the tannins to give a long and smooth finish with a fine balance of sweet red fruit and the iconic dried herbal notes.  
The third in their trilogy of traditional Montalcino is their Riserva "Mercantale", this spends a whopping 55 months in barrel and then a further 12 months in the bottle before release, creating a wonderfully round, complex, savoury and ethereal wine. Hard to fully describe the magic in the glass!  
The final wine we tasted, Donna Rebecca, is a new way of thinking and instead of the enormous botti, they decided to age the wine in Burgundian barriques (228l) for 30 months. The considerable difference in surface area to volume ratio means the wine has more exposure to oxygen and new oak aromas creating a fuller bodied and broodier Brunello than the more traditional styles.  
Lunch al fresco 
Our fantastic tour was finished with a delightful lunch looking over the vines, they kindly shared with us the most delicious salumi I had ever tasted – capocollo, a Montalcino speciality laced with fennel that paired beautifully with the Brunello 2015. 
A magical trip and look forward to spreading the word when I am back at my desk!