A day in Burgundy – Tasting En Primeur 
After four years working hard on the sales floor at C&B, I earnt my stripes to join Guy Seddon, Head of Fine Wine Buying, for our Burgundy 2021 en primeur tasting trip in October 2022. As we shuttled south on the TGV to Dijon, I studied our jam-packed schedule for the week ahead with great anticipation. Thanks to Christelle Chedeville's (Senior Fine Wine Buying Assistant) excellent organisational skills, we had appointments with more than 20 estates to squeeze into four days. Here is a brief snapshot of a day in Burgundy. 
En Primeur – a process used for selling wine whilst it is still ageing at the estate. As some producers choose to age their wine between 6-36 months after picking the fruit, this helps the farmers with cash flow and gives customers a chance to buy at the keenest price, with many Burgundies selling out en primeur. Merchants travel to Burgundy to taste the wine from the barrel (unfinished) to get an impression of the wine and then sell to their customers.  
0800: Domaine Matrot, Meursault 
Our first tasting, bright and early, with Adèle and Elsa Matrot at their family domaine in the heart of Meursault.  
After a croissant en route to the estate, Guy and I tasted 6 wines from across their range. Whilst chatting to Adèle about the trials and tribulations of the 2021 vintage, the impact of the devastating hat-trick of frosty nights in April became clear. However, we were taken by the elegant, perfumed qualities of their wines in 2021.   
Early morning light across Meursault 
1000: Domaine Michel Lafarge, Volnay 
Guy, a seasoned pro, set up a makeshift desk in the cellar at Lafarge. One of the joys of being in Burgundy was meeting all the different producers whose wines I have grown to love, and particularly being invited into their cellars. The rich history of winemaking in this region means that some of the cellars date back to the 12th century. 
Makeshift desk at Domaine Michel Lafarge 
1100: Côte d'Or 
When leaving Meursault, we drove up into the hills to meet with a prospective producer who took us on an excellent tour of their very picturesque vineyards. Visiting Burgundy in late autumn is fascinating as you can clearly see the different parcels thanks to the patchwork shades of yellow, gold and red – a result of the aspect, soil type, pruning method and harvest dates.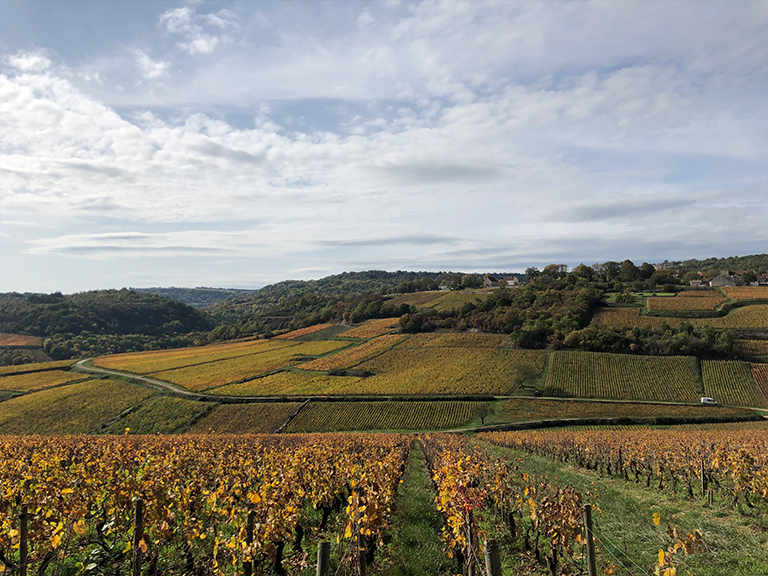 The hills above Meursault 
1230: Lunch 
Fortunately for us, great wine and great food come hand in hand and unsurprisingly the Côte d'Or has a fantastic range of restaurants serving up local delicacies. I didn't capture any images of our 'working' lunches, but I couldn't resist including a picture of this extremely French vending machine. 
Ma Baguette – an essential vending machine  
1400: Château de la Tour, Vougeot 
It was great fun tasting with Édouard Labet at Château de la Tour and sampling the different plots within the Clos Vougeot Grand Cru, and even tasting some of the 2022 vintage from the barrel! Producers have different ways of showing us the new vintage, in some instances they prepare a mix of different barrels in a bottle to give an indication of the final blend, whereas others invite us to try straight from individual barrels and tanks.  
Newly built cellars storing ranges of older vintages at Château de la Tour, Vougeot 
1600: Domaine Joseph Roty, Gevrey-Chambertin
The majority of producers showed their 2021 wines, however some estates we work with, like Domaine Joseph Roty, prefer to sell the wine once it is finished and in bottle. It was an interesting comparison to try some of the '20 vintage, a much warmer year than 2021, and to taste wine that had finished its 18 months in barrel.
 
Domaine Joseph Roty – a line-up of the 2020s 
1800: Domaine Jean-Marc Pillot, Chassagne-Montrachet – exclusive to Asia & Scotland 
It was a pleasure to meet three generations of the Pillot family, who embody the long history of winemaking in the region and families who have been making wine here for over 500 years.  
Guy and I are stationed at C&B's office in London but were also tasked with tasting wines for our teams in Asia and Scotland where we sell certain estates exclusively in these markets.  
Three generations at Domaine Jean-Marc Pillot 
2030: La Dillettante, Beaune 
Ravenous and running on fumes, Guy and I settled down to dinner at one of the many delicious restaurants in Beaune. La Dillettante was perfect after a long day tasting with excellent charcuterie, quick service and an exciting wine list to pour over (yes, we were still up for a glass of wine!). Full of food and the joys of Burgundy we wandered home at 10pm and raring to go for day two with the alarm set for 6:30am. What a magical trip!